Review: XPSPY Android Spy: Download & Install Free Android Spy
How to install mobile spy on Android with XPSpy
FREE 48 Hours
Information: XPSpy will be replaced by FoneTracker (New Version with More 25+ Features). FoneTracker is the most powerful spy phone software with highly innovative features.
Download FoneTracker at: https://fonetracker.com/install-free-phone-tracker/
This page shows you how to install XPSpy version for Android device step-by-step.
Current version is 6.5 (released on May 2019).
Link download XPSpy app:
Download FoneTracker App (version 6.5)
You must keep in your hand the target device to visit above link in order to download and install the application.
How to install mobile spy on Android with XPSpy
1. Configuration
Before downloading XPSpy, be sure that target device has internet connection via Wifi or 3G or GPRS.
And target device must be set to allow the installation of non-Market apps (Go Settings > Security > check Unknown Sources)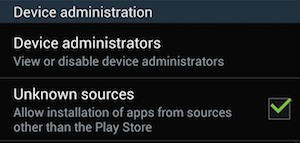 2. Download XPSpy to target device directly
Browse to https://fonetracker.com/install-free-phone-tracker/ from your device's browser and download XPSpy to your device.
When the download is complete please open your notification window and install it from there.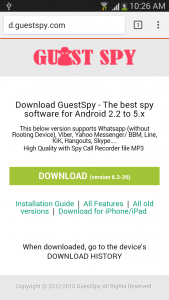 3. Register your account
You can register new account here by clicking Register button, or if you registered an account at user control panel site already (https://my.guestspy.com) then you can click Login button to join this device to your account.
4. Install XPSpy
HELP LINK
How to ROOT device to spy Whatsapp, Viber, Facebook, Skype
When you install XPSpy, your device will prompt all the permissions the app needs to be installed.
Please accept (tap Next) them and XPSpy will be installed automatically.
*** If target device is rooted, please tap "Accept" or "Grant" SuperUser to gain permission to track messages of social networking apps such as Viber, Yahoo Messenger, Skype, Tango … With Whatsapp it is no need to root but you must wait longer than usual to read new Whatsapp messages (maybe it takes from 1 day to 3 days; with rooted device it takes 15 minutes).
ATTENTIONS:
1. If you want to hide this application you can tap on button Hide Icon XPSpy from Configuration... In order to show interface again you should make a call with number #5555*.
2. Sometime it does not work immediately so you should restart your device once.
3. In order to clean all traces you should clean history browser (where you typed d.guestspy.com) and you should clear downloaded file (XPSpy.APK file) at Downloads.
MORE LINK: